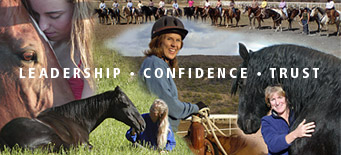 Andersen Acres is proud to welcome Karen Scholl June 22-24, 2012 for a 3 day clinic.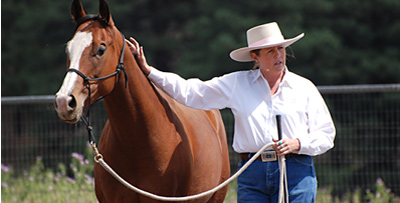 Karen Scholl is a leader in natural horsemanship and has her own method of teaching and empowering people to be "natural" with their horse. "Horsemanship for Women" teaches one to not be afraid of making a mistake. It is great for men and woman for it teaches not only how to do better with your horse but the reason why it works.

Take this opportunity to learn how to expand your communication and leadership with horses from this national-level clinician and educator. Karen provides an affordable program that delivers information guaranteed to establish the skills, tools and strategies to obtain that perfect relationship with horses. With almost 20 years of teaching, Karen has emerged with her own teaching style designed to address three key areas many women are commonly challenged with horses; establishing leadership, building confidence, and gaining mutual trust.

Participate in this valuable educational opportunity with or without your horse. Rider positions (with your horse) are very limited, so don't wait. All skill levels are accepted. Horses of every breed and riders of every discipline can participate. Auditor positions are available and men are always welcome. Register Today!

When asked to describe her program, Karen responds, "I teach women that horses are NOT big puppy dogs, but not to give up their nature to nurture. To deepen our relationship with our horse, the key is in our ability to demonstrate 'loving leadership'. This quality is what horses are naturally attracted to." Addressing women's concerns and questions with respect and encouragement, Karen creates an atmosphere of safety, fun, and accelerated education for every participant, from the very beginner to the advanced competitor.

How can Karen help you? Here's what a few recent clinic participants had to say:
"My experience was absolutely amazing as well as the most life changing with my horse ever. I can't wait for the opportunity to participate in another one of your clinics".
- A. R., Bethel, ME
"This is the first time I have really understood the connection between ground work or 'riding from the ground' and 'riding from above'. Karen explained the philosophy behind the actions which allowed me to make sense of the exercises in a way that is extremely helpful when communicating with my horse. Karen stressed the importance of clarity and precision in our communication with our horses and these concepts resonate with me and where I am with my horse. I would highly recommend this to any discipline of rider, whether it be dressage, eventing, or trail. Very good!"
- A. G., Grand Junction, CO.

Click here for more information or to register!
If you know someone that is struggling to communicate with their horse and could use some hands-on help, forward this email to them - they'll thank you for it!

We're looking forward to seeing you soon!
Contact www.KarenScholl.com to register for this great opportunity to be the best for your horse.
For lodging and boarding during the clinic please visit www.andersenacres.com/events/lodging